The Seashore Trolley Museum is located in beautiful Kennebunkport, Maine. This quaint coastal community offers many unique and affordable options for dining, lodging, and fun things to do with your friends and family.
Breakfast/Lunch
     Boulangerie: A Proper Bakery 5 Nasons Court #12, Kennebunk
https://www.aproperbakery.com/
     Mike's All Day Breakfast: 55 Western Avenue, Kennebunk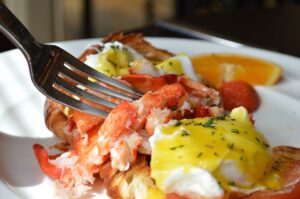 https://www.mikesalldaybreakfast.com/
     Mike's American Diner: 1132 Portland Road, Arundel
https://www.mikesamericandiners.com/
     Mornings in Paris: 21 Western Avenue, Kennebunk
https://morningsinparis.com/
     Talula's: 2 Morning Walk Lane, Cottage #7, Kennebunk
https://www.facebook.com/TalulasKnbk
Sandwiches
     Bennett's Store: 200 Sea Road, Kennebunk
https://www.bennettssandwichshop.com/bennettskennebunk
     Cape Porpoise Kitchen: 1 Mills Road, Kennebunkport
http://www.capeporpoisekitchen.com/
HB Provisions: 15 Western Avenue, Kennebunk
http://www.hbprovisions.com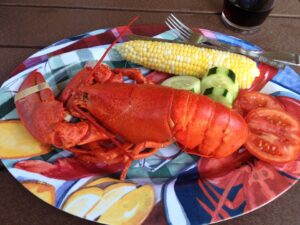 Lunch/Dinner
     Allison's Restaurant: 11 Dock Square, Kennebunkport
http://www.alissons.com/
Located in the center of Kennebunkport's Dock Square, Alisson's has been a local family owned favorite since 1973. Serving Lunch and Dinner daily, year-round. Featuring top quality fresh seafood, lobster bisque, a variety of lobster rolls, 23 local beers on tap & premium whiskey.
     Arundel House of Pizza: 1369 Portland Road, Arundel, 207-985-1700
Pizza, pasta, burgers, salads, hot and cold subs
     Arundel Wharf: 43 Ocean Avenue, Kennebunkport
https://the-arundel-wharf.com/
Waterfront restaurant offering classic Maine entrees for seafood lovers and landlubbers alike.
Bandaloop: 1200 Portland Road, Arundel
https://bandalooprestaurant.com/
Offering something for every palate, Bandaloop focuses on global flavors, organic local produce, and a commitment to green practices.
     The Clam Shack: 2 Western Avenue, Kennebunk
https://www.theclamshack.net/
Serving the freshest fried seafood and locally caught lobster since 1968.
     Federal Jack's: 8 Western Avenue, Kennebunk
https://federaljacks.com/
One of Maine's first brew pubs, this popular restaurant is also the birthplace of Shipyard Brewing Company's award winning line of handcrafted ales. Offering pub fare, sandwiches, seafood and more with scenic water views.
     Hurricane Restaurant: 29 Dock Square, Kennebunkport
https://www.hurricanerestaurant.com/
Hurricane Restaurant offers the freshest local seafood, locally grown produce and the finest of prime meats available in the market daily. Our Chef and Pastry Chef write our menus based on the freshest and finest products.
     Mekhong Thai: 35 Western Avenue, Kennebunk
https://www.mekhongthai.com/
Family owned and operated since 1993, this restaurant offers ample free parking as well as an assortment of classic Thai cuisine.
     Pedro's Mexican Restaurant: 181 Port Road, Kennebunk
https://pedrosmaine.com/
Scratch made Mexican food in a fun and relaxed atmosphere.
     Sebago Brewing Company: 65 Portland Road, Kennebunk
https://www.sebagobrewing.com/locations/kennebunk/
Sebago Brewing Company offers great beer, great food, and great people. The Kennebunk location also offers ample parking.
     Wandby Landing: 46 Western Avenue, Kennebunk
https://www.wandbylanding.com/
Wandby Landing offers upscale dining with tranquil views of the marsh.
     Franciscan Guest House: 26 Beach Avenue, Kennebunk
http://www.franciscanguesthouse.com/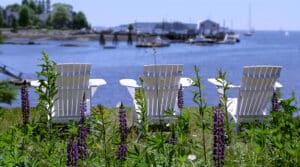 Offering affordable rates and modest accommodations near Kennebunkport Maine and the Kennebunk beaches.
     King's Port Inn: 18 Western Avenue, Kennebunk
https://kingsportinn.com
Tastefully designed for simplicity and comfort, our Kennebunkport hotel accommodations guarantee a relaxing stay at an unbeatable price, just moments from the beaches, attractions, shops and restaurants of Kennebunkport and Kennebunk. Each room includes free wireless Internet, a flat-screen fiber optic cable TV, a mini-refrigerator, a granite and marble bathroom and a large, soft bed! Continental breakfast included.
     The Lodge at Kennebunk: 95 Alewive Road, Kennebunk
https://lodgeatkennebunk.com/
The Lodge at Kennebunk is situated on a quiet 8-acre setting adjacent to I-95 in beautiful Kennebunk, Maine.
     Ocean Woods Resort: 71 Dyke Road, Kennebunkport
https://oceanwoodsresort.com/
Located only a half a mile from Goose Rocks Beach, Ocean Woods Resort is located on the quiet side of Kennebunkport.
     Rhumb Line Resort: 41 Turbats Creek Road, Kennebunkport
https://rhumblinemaine.com/
The Rhumb Line Resort is a family-friendly resort hotel nestled in a scenic four-acre wooded setting, perfect for your
family getaway. We offer deluxe accommodations in a quiet stretch on Ocean Avenue, a short walk to the shoreline.
     Beaches
          Goose Rocks Beach, Kennebunkport
Mother's Beach, Middle Beach, Gooch's Beach, Kennebunk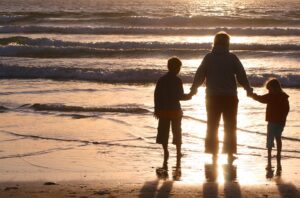 Beach, pier and amusement park, Old Orchard Beach
     Funtown/Spashtown USA: 774 Portland Road, Saco
https://funtownsplashtownusa.com/
An amusement and water park with rides and slides for the whole family!
     York's Wild Kingdom: 1 Animal Park Road, York
https://yorkswildkingdom.com/
York's Wild Kingdom offers a variety of family rides, miniature golf course, petting zoo, concession stands, gift shop and so much more. A fun    and educational way to spend the day with your family!
     Children's Museum and Theater of Maine: 250 Thompson's Point Road, Portland
https://www.kitetails.org/
The Children's Museum & Theater of Maine offers visitors interactive exhibits that have been designed to create experiential learning and fun at the same time. We are a hands-on and family centered experience for the entire family.
     Maine Narrow Gage Railroad: 49 Thames Street, Portland
https://mainenarrowgauge.org
Relax on our beautiful historic train cars while you take in the ever-changing scenery along Casco Bay. On-board narration provides fascinating history about the sights along our route, as well as Maine railroading history.
     Boat Tours:
https://chamber.gokennebunks.com/list/category/sightseeing-tours-fishing-charters-27
From kayaks to classic schooners, the Kennebunkport area offers a number of scenic trips and tours along Maine's coast and waterways.