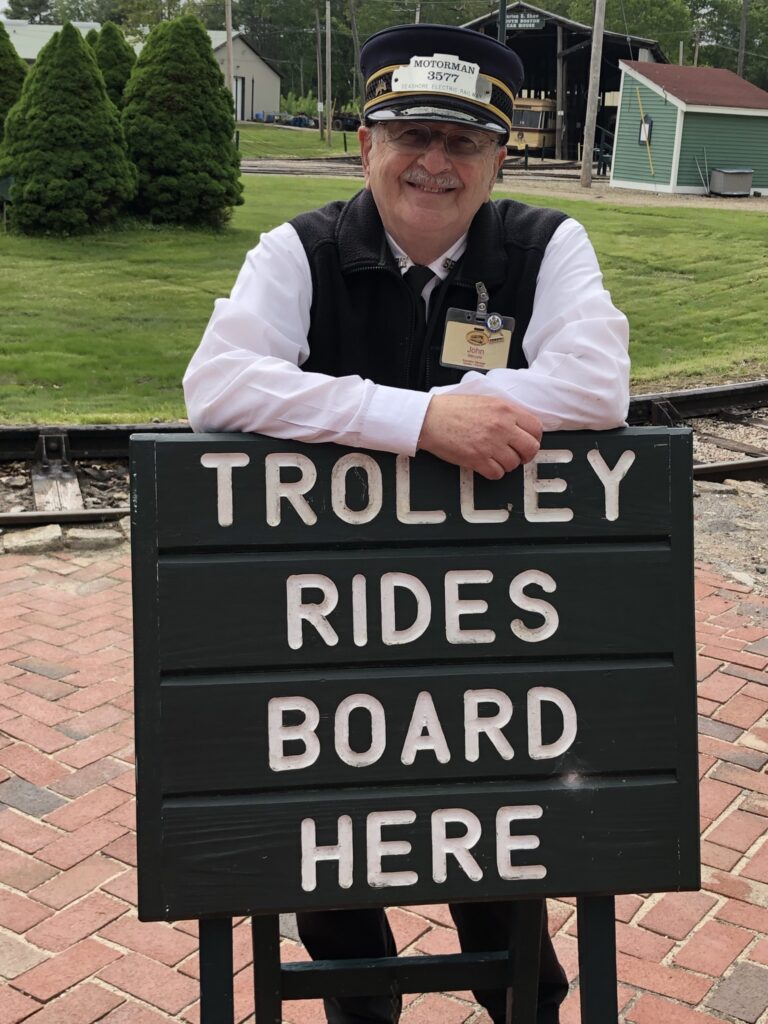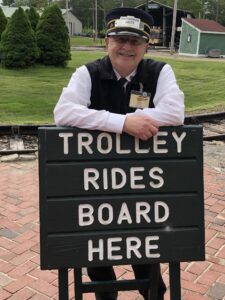 Download our 2023 Volunteer Flyer and Share!
There are many Volunteer Roles at Seashore Trolley Museum. In fact, the vast majority of our functions are staffed by volunteers. Volunteers play a mission-critical role at Seashore Trolley Museum!  We help Volunteer applicants find a great match between their interests/talents and the needs of the museum. Here are examples of positions that we seek volunteers to fill:
Streetcar operators , conductors, dispatchers help our visitors experience first hand what it was like to ride a streetcar, before the invention of the automobile. Enjoy interacting with the visiting public, teaching them the story of the trolley era and its part in the development of our country. Museum motormen and conductors must attend and pass our safety and training courses. After the first year, it is required that all motormen and conductors attend and pass our annual safety re-qualification course and testing. To learn more about these opportunities, please email our Chief Instructor at [email protected]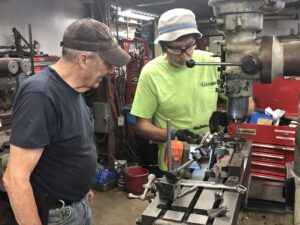 Volunteer craftsmen or tradesmen has many jobs for volunteers in our year-round restoration program in the Donald G. Curry Townhouse Shop. They also help us maintain our buildings and grounds. In supporting our small paid staff in the restoration shop, our volunteers are as valuable as the streetcar collection. They do the fascinating work of restoring and maintaining our priceless collection of antique streetcars, interurbans, and rapid transit cars.  We're interested in helping people learn the skills necessary to support our restoration work. We are also interested in learning any new skills our volunteer craftsmen or tradesmen might bring to us. Some of our shop volunteers work only on weekends, while others donate time during their vacation. Still others set aside one or two days during the week and spend the day much as if they were employed full time in the shop.  If you are retired, a student on summer vacation, or you have some spare time to volunteer on a day off, please consider helping us in the restoration shop to preserve our collection for future generations. Bring your skills and/or an interest to learn a new skill or craft and we guarantee that we will find something you will enjoy doing.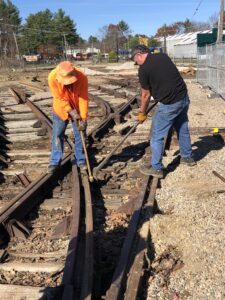 Track, Maintenance of Way, and Signal Crew volunteers help us keep the main line as well as all of the many spurs and railyards in navigable condition. Except for the dead of winter, this effort is constant. There are always ties that need to be replaced, switch gear that needs to be serviced and many other upkeep tasks that easily go unnoticed by our guests. It can be physical work, but very satisfying.
Library and Archives volunteers help maintain the "story" of transit. We have many thousands of documents that, over a long period of time, are being scanned, catalogued thus being made available to museum staff and the public. We are often asked, "How do you know how to repair these old trolleys?". We often turn to the archives developed and maintained by the Library to find the path to success.
Many Administrative, IT and Facilities functions are ongoing and even ramp up in the off-season. The office at the Museum is a busy place. It takes many minds, eyes, ears and hands to do all that is needed to keep Seashore keep things fresh for our guests. We are always coming up with new ideas to attract visitors to our door. We have to maintain our network, phone system, web presence, Museum Store. We publish a quarterly newsletter, send mailings for special events and fundraisers and maintain contact with our members and volunteers. This only a sample of what we do and each of these tasks has a number of "moving parts" that need caring persons to see them through to success.
Helping at special events is one of our more important functions. This is, in part, because these are visitor facing tasks. If everything doesn't go to plan our guest have an experience that falls short of our vision. This can reflect negatively on all of the great work that we do here. Our special events can have many elements to them. The jobs for volunteers abound as the more staff we have available the better we can work the plan and the better we do executing "Plan B" if something goes awry.
The first step to becoming a volunteer at Seashore Trolley Museum is to fill out a Volunteer Application, available online HERE.
Would you prefer a hard copy Volunteer Application? To request a hard copy, email our Volunteer Coordinator.
Before your first day, review our Volunteer Handbook.