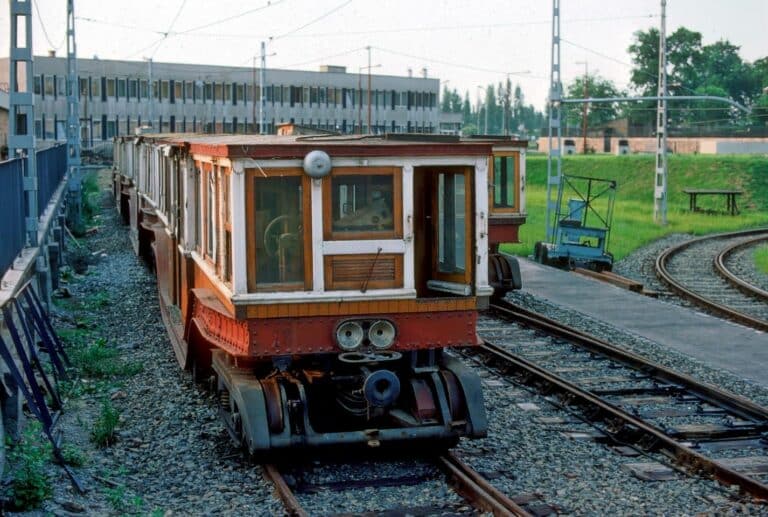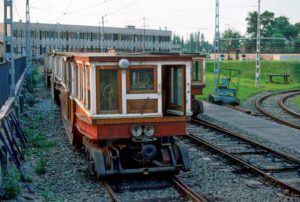 Operating History: The world's first subway with self powered cars, using electricity, opened in Budapest, Hungary on May 2, 1896.  This technology subsequently became the world standard.  London's subway was older, but it first operated with steam locomotives and then, in 1890, with electric locomotives on the City & South London line.  Following the Budapest subway, a cable-powered subway opened in Glasgow, Scotland in December 1896.  The Budapest subway influenced the design of America's first subway – the Tremont Street subway in Boston which opened in 1897.
Budapest's subway line ran 2.3 miles from the city center near the Danube River to the City Park to serve an exhibition commemorating the Hungary's 1000th anniversary.  The Budapest Foldalatti (meaning "underground") line opened with 20 electrically powered cars.  Nos. 1 – 10 were paneled in sheet metal.  Nos. 11 -19 were wood paneled, and No. 20 was a special design "Emperor's Car."  Forced into a 9.3 foot high tunnel between the surface and a major sewer line, the cars had an extremely low profile, and the operator had to squeeze into a very tight cab.  The cars had drop centers for the doors, and the seat benches were above the trucks.  Top speed was 17 mph.  Over the years, the Foldalatti cars received new trucks and doors but generally kept their original appearance.  The Foldalatti depressed center entrance design foreshadowed the Boston center entrance streetcars such as Nos. 6131 and 6270 now at Seashore. The Foldalatti cars were not equipped for multiple-unit operation.  So, in 1960, to add capacity, Budapest acquired 16 trailer cars to operate with the original cars.  In 1973, Budapest extended the Foldalatti line and finally replaced the 1896 cars with new equipment.  (See also: Budapest's Foldalatti Subway and the Seashore Trolley Museum, edited by James D. Schantz, for sale in the museum bookshop.)
Museum Ownership: When the new Foldalatti cars arrived in 1973, about half the old cars went to various museums in Europe.  In 1974, Seashore Trustee George Sanborn began an attempt to obtain one of the original Budapest cars.  Sanborn's letters to groups in Hungary mostly went unanswered.  Sanborn hoped that President Jimmy Carter's decision to return the Crown of St. Stephen to Hungary in 1978 might generate some goodwill, but Sanborn's efforts remained unsuccessful.  Finally, in 1989 while the Velvet Revolution was in process of ending Communist one-party rule in Czechoslovakia, the Czechoslovak embassy helped connect Seashore with museums in that country.  The National Technical Museum in Prague, Czechoslovakia had obtained Budapest No. 18 and later transferred it to the Brno Museum of Technology in Brno, Czechoslovakia.  The Brno Museum then decided to limit its collection to Czech artifacts.  The museum's director agreed to donate No. 18 to Seashore in exchange for a large format Mamiya camera that was unavailable in Czechoslovakia.  No. 18 was shipped to Seashore in 1991 and has been partially restored.
Current Condition: No. 18 is awaiting restoration.