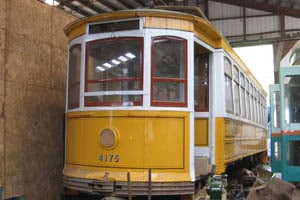 Today is GivingTuesday, a global generosity movement and day of giving. Seashore Trolley Museum is raising funds on GivingTuesday to finish the restoration of Bay State Street Railway No. 4175. This trolley has undergone a 36-year restoration to date and is so close to the finish line! An anonymous donor has recently pledged to match all donations received, up to $25,000, by the end of 2021. Support this car and your gift to Seashore Trolley Museum will be doubled! Any dollar amount is appreciated to help us raise the remaining $50,000 needed to complete No. 4175's restoration.
To support No. 4175, please designate your gift to Fund 528.

The Operating History of No. 4175
No. 4175 was one of a class of 50 trolleys delivered from Laconia Car Company (New Hampshire) to the Bay State Street Railway between late 1913 and early 1914. No. 4175 initially ran on a route from Scollay Square, Boston to the Beachmont section of Revere, MA. In 1917, the car moved to Newport, Rhode Island, operating between Newport and Fall River, MA.
With multiple divisions operating north and south of Boston, the Bay State Street Railway served three states, entering New Hampshire at Nashua and Rhode Island as far as Newport. When the company was reorganized as the Eastern Massachusetts Street Railway in 1919, it had to divest some unprofitable operations and Newport was among these. No. 4175 was one of several of the Bay State's semi-convertible cars included when the Newport Street Railway took over operations. Its exact car number in this period is unknown. Trolley service in Newport ended in 1926, and the semi-convertibles were sold to the Coast Cities Railway Company of New Jersey, where they ran for a few more years. No. 4175 was renumbered No. 703. In 1929, Coast Cities 703 was sold for use as a summer cottage in Point Pleasant, NJ.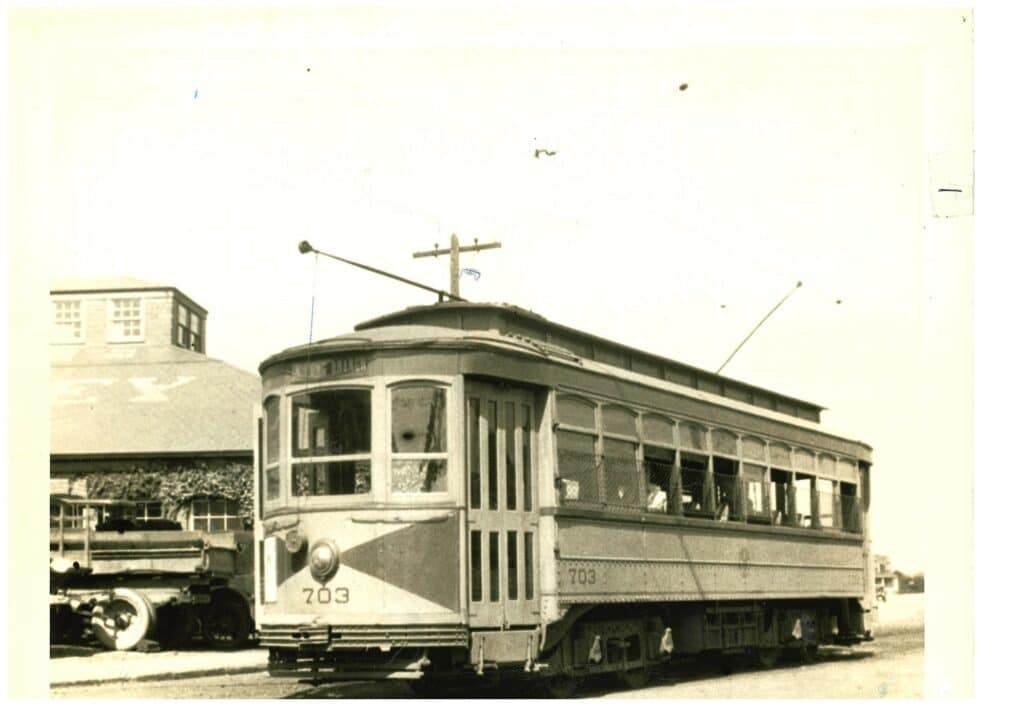 Conversion to a house involves many changes; most significantly the removal of virtually all equipment: Trucks, motors, controllers, electrical equipment, seats and most light fixtures.
On one side, the original sash were removed and the window area covered with horizontal pine boards nailed to the outside using rather large common nails. The original cherry post caps were removed and replaced with cheap slatting. Thankfully, the body of the car was preserved by the installation of a peaked roof over the car. The car was painted silver on the outside and in the vestibule area and had 'modern' lights. Fortunately, most of the original 27-ft. long cherry moldings in the headlining area and the clerestory sash were left.
Seashore acquired this car in 1976. Although the basic body was sound, the platform knees had rotted out from contact with the ground, and the ends had to be braced with a rail when the body was moved to Maine. When our Restoration Shop had room to move the car inside in the winter of 1984, it entered on temporary trucks with one platform practically dragging on the rails.
Seashore is restoring this car to its 1914 Bay State Street Railway configuration and appearance, and extensive restoration has taken place over the past 36 years.
To support No. 4175, designate your gift to Fund 528.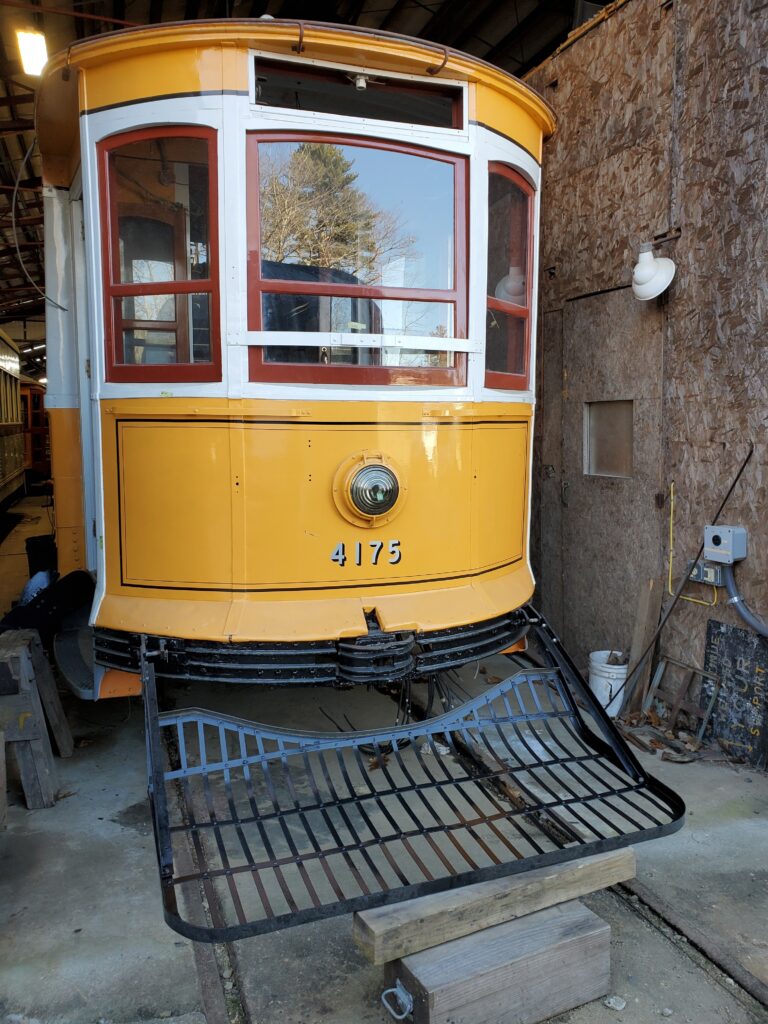 Donation Incentives
To show our gratitude for your support of our GivingTuesday campaign, we are offering the following donor incentives to those who give today through next Tuesday, December 7, 2021:
Give $25 or more and be entered for a chance to win a $50 Museum Store gift card!
Give $50 or more and be entered for a chance to win all incentives listed above this one, AND you will also be entered for a behind-the-scenes tour of our Restoration Shop pit by our talented Restoration staff team.
Give $100 or more and be entered for a chance to win all incentives listed above this one, AND you will also be entered for a chance to win a free Be A Motorman experience during our 2022 season! Learn how to operate one of our regular fleet trolleys with a skilled instructor during a one-hour class. Also included: Immediate family members can ride with you as you operate the trolley! Winners of this incentive must be 18+.
Give $250 or more and be entered for a chance to win all incentives listed above this one, AND you will also be entered for a chance to win a ride in the bucket of our hi-rail bucket truck! A 275 lb. weight limit applies. Winners of this incentive must be 18+.
What Restoration Work is Still Needed?
The cosmetic restoration of No. 4175 is largely complete inside and out. Some light globes need to be installed and various operator's controls and handbrake mechanics need to be added. The status of the heat is to be determined.
The bulk of the remaining work is functional in nature, and this is why your GivingTuesday donation is critical in helping us finish the restoration. These are the big items that remain to get the car operable:
The trucks need to be evaluated and serviced as needed. We know that multiple, damaged bearing surfaces have to be addressed and we need to have multiple axle journals assessed for damage. The motors are fully functional, tested and ready to be installed when the trucks are ready. Adapter plates for the center bearings have to be designed and fabricated.
There is a lot of work to be done in the brake rigging area. The brake cylinder needs to be bench serviced. The slack adjusters need to be installed (they have already been serviced). Various rods, chains and levers need to be fabricated, connecting the cylinder to the trucks. Hand brake rigging needs to be assembled and installed. The brake air reservoirs need to be removed, water tested and reinstalled.
Most of the 600v wiring is in place and ready to be connected. The trolley poles have to be installed and 600v circuits wired along with the lightning arrestor gear. Resistor grids have to be designed, assembled and installed (this work is already in progress by our dedicated volunteers). Some of the remaining exterior work that remains are the fitting and wiring of headlights. The roof also needs a good cleaning and two to three coats of additional stain. The people catchers still need some final hardware installed to be demonstrable.
To support No. 4175, please designate your gift to Fund 528.

Thank you for supporting Seashore Trolley Museum!