Docent-Guided Museum Tours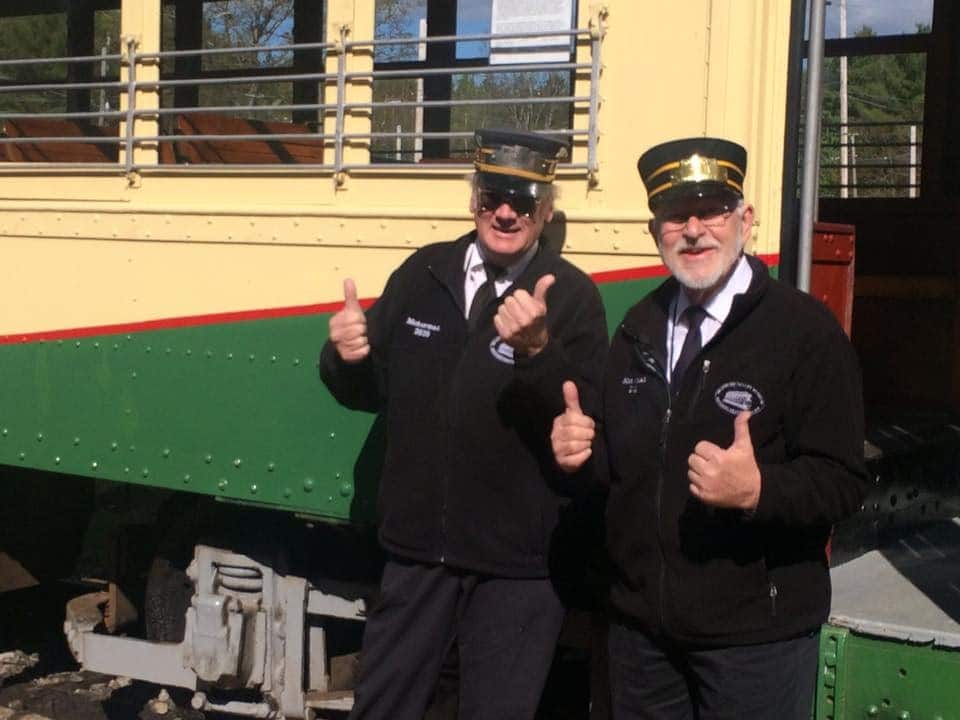 Seashore Trolley Museum is re-opening under Phase 1 of Maine's Plan to Restart the Economy, and the Guided Outdoor Activities provision. Hooray! For Maine residents and non-residents who have completed a 14-day quarantine in the State of Maine, will be offering Docent-Guided Museum Tours! Tickets are available at https://docentguidedtour.eventbrite.com 
Families and friend groups of up to 10 may reserve one of our 2-hour behind-the-scenes docent-guided museum tours with one of our energetic and knowledgeable docents! See areas of the museum not typically open to guests. If you would like, after you purchase tickets, email [email protected] and tell us where members of your group are from/have lived and any area of interest/s you have in our museum, and our docent will customize your tour experience to meet the interests of your group.
Docent-guided museum tours will follow the Maine COVID-19 Prevention Checklist for Guided Outdoor Activities. In order to follow state-mandated criteria for limiting group sizes and not accepting payment on site, we are charging a flat fee of $50 for your group of up to 10. Your ticket also includes one free, signed copy of "Teddy Roosevelt, Millie, and the Elegant Ride" by Jean Flahive. This experience does not include a trolley ride.
Tickets are available for tours at 10AM every day in May (except Memorial Day, May 25th), and additional tours will be offered on weekends at 12:30PM and 2:30PM.
*****Please read before purchasing*****
In order to be in compliance with the State of Maine's Phase 1 re-opening criteria, Seashore Trolley Museum has implemented the following policies:
All guests should be from the same household, unless you can comply with current standards for physical distancing on campus, maintaining a distance of 6 feet between individuals to the degree possible. Measures have been put in place (tape, dividers, etc.) to help you maintain physical distancing while you're visiting us, but it's up to group members to follow them.
All guests should wear face coverings when indoors or when unable to maintain physical distancing. Face coverings that become wet must be replaced with dry face coverings. We ask all guests to bring their own face coverings, but if you forget, we will have a limited supply of disposable face coverings available.
Purchase tickets in advance to reserve your group's docent-guided tour. Ticket holders can receive refunds up to one (1) day before the event start date. Following this timeline, tickets will be nonrefundable.
During Phase 1, the Museum is not able to open our Restoration Shop viewing gallery to guests, as well as any of our trolleys, rapid transit vehicles, or buses on display. Those familiar with the Museum know that usually guests can hop on any displayed artifact, take pictures, ding the bells, etc. We simply do not have the volunteers or staff available to clean of our collection items (over 330 pieces! Wow!) within the scope of the State's Phase 1 guidelines, so while our display barns will be open when you visit, we ask that you and others in your group do not touch any of the collection items in the barns as well as around campus. We know that this is an exciting part of the trip, so if this will disappoint members of your group, please be encouraged to hold off on purchasing tickets at this time and visit our website or social media pages in June or later this summer to see if we are able to lift this restriction.
Non-member guests participating in docent-guided tours will be asked to sign a waiver when they arrive on campus because you will be entering areas normally restricted to members only. A copy of the waiver is available in advance by emailing [email protected].
Seashore Trolley Museum follows the Center for Disease Control's protocols for Cleaning and Disinfecting Facilities, available at: https://www.cdc.gov/coronavirus/2019-ncov/community/disinfecting-building-facility.html
Restrooms will be available inside our Visitors Center and will be cleaned and disinfected multiple times a day by Museum employees with EPA registered products. The time they were last cleaned and disinfected will be posted on a sign on the restroom door.
Picnic tables are also available on-site if you choose to bring a picnic to enjoy on campus, at your own risk. Disinfectant wipes will be available from the Museum Store employee. We ask all guests disinfect their picnic table before and after use and place used wipes in the trash receptacle in front of the Visitors Center.
Maine's 14-day quarantine for out-of-state residents is still in effect, and at this time we will only be open to Maine residents and guests who have completed a 14-day quarantine in the State of Maine. When this changes, we will gladly open our doors to all healthy out-of-state members and guests.
Seashore Trolley Museum has successfully completed Maine's State Checklist Compliance conditions in order to re-open during Stage 1 of the Plan to Restart Maine's Economy from the Department of Economic & Community Development as a stamp of approval for our Phase 1 plans to re-open.
By purchasing tickets at this time, you and all guests in your group accept and agree to adhere to our Phase 1 re-opening policies as written. Policies are subject to change as expectations and guidelines provided by our state continue to change.
For questions or suggestions, please contact our Executive Director at (207) 967-2800 x101 or [email protected].
Tickets are available at https://docentguidedtour.eventbrite.com