Clifford the Big Red Dog Visits Seashore!
September 17, 2022

-

September 18, 2022

Clifford The Big Red Dog Visits Seashore Trolley Museum with Maine Public Television!
Take an adventure to Seashore Trolley Museum on Saturday/Sunday September 17th and 18th for a m
eet and greet with Clifford, from the PBS KIDS series Clifford The Big Red Dog.
Hop on a trolley shuttle to Highwood Carhouse to take photos with Clifford. Enjoy crafts, coloring, story time, and Clifford-themed photo backdrops on the way to meet Clifford. Following your Clifford moment, take advantage of other activities around the Museum campus, including Maine Public Television's fun activity tent and decorating your own Clifford cookie! Guests can also visit our regular Museum exhibits and displays, as well as ride trolleys on our private 3-mile round trip heritage railroad!
This event will be held rain or shine. No transfers, time changes, or any other ticket changes will be possible after 5PM on Friday, September 16, 2022.
On September 17th & 18th, the Museum will be open from 9:30AM-5PM, and Clifford will be visiting with us from 10AM-4PM. Tickets will be sold at 30-minute intervals for the shuttle ride to meet Daniel Tiger at Highwood Carhouse–the time on your ticket is the time your shuttle will depart to meet Clifford. We ask that guests arrive at the Museum at least 15 minutes prior to Clifford shuttle boarding time to ensure ample time for parking and checking in at our Registration Tent, which will be located between our Visitors Center and Tower C, visible from our parking lot.
Stroller parking will be available next to the Registration Tent.
Guests are welcome to arrive earlier and stay later to take advantage of all of the other activities, exhibits and displays at the Museum! Pack a picnic lunch (we have 3 picnic areas with picnic tables, and plenty of lawn space for lawn chairs/blankets) or purchase lunch from The Pink Waffle food truck! Snacks and beverages will also be available inside the Visitors Center for purchase.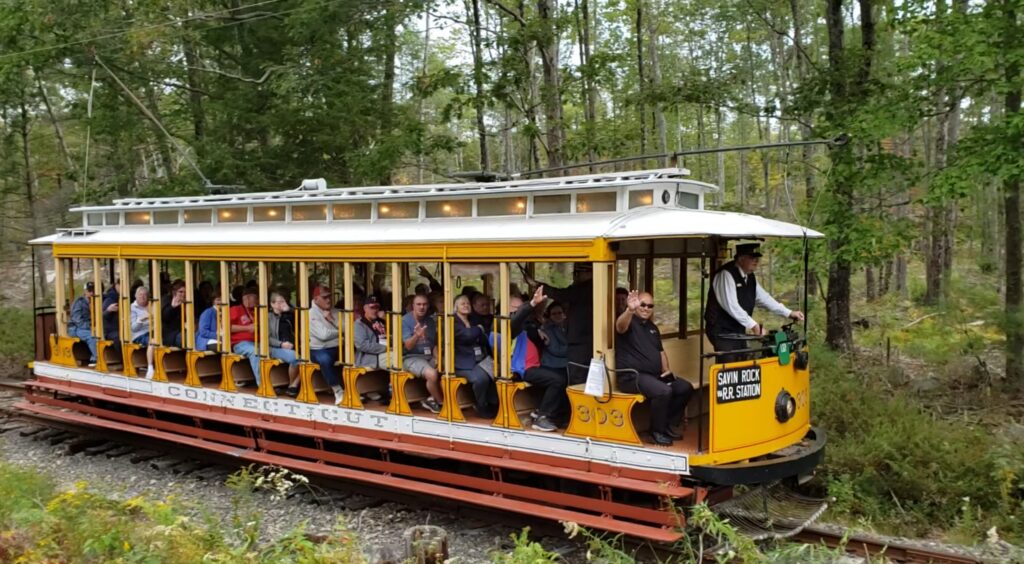 Tickets are $13 per person; children two (2) and under are FREE. Children two (2) and under do not need tickets to attend with a ticket-holding adult.
Seashore Trolley Museum has a Mobilift to help guests with mobility challenges access our trolleys. The Mobilift is compatible with trolleys that will be operating on our regular railway during the event, but not on the shuttles that will take families to Highwood Carhouse to meet Clifford. There will be a special ride each day at 3:30PM where the accessible trolley will be moved to the shuttle track so our Mobilift can be used to help guests into the trolley and bring families with mobility challenges to meet Clifford. Families will stay on the trolley and Clifford will board the trolley to join you for a meet and greet and photos. Please select the 3:30PM shuttle time if a member of your group will need to use the Mobilift to board the shuttle to meet Clifford.
If the 3:30PM shuttle time does not work for your group, there is an access road families can use to drive or walk to Highwood; please email our Executive Director (contact info below) to let us know if you would like to take advantage of this option.
As of 8/24/22, masks are optional at Seashore Trolley Museum. If this policy changes we will notify ticketholders prior to the event. The shuttles used to bring families to meet Clifford will be our open-air trolleys; in the event of rain enclosed trolleys will be used but all windows that can be opened on the trolley will be opened.
If you have any questions, please call our Executive Director Katie Orlando at (207) 967-2800 x101 or email [email protected]
Thank you for your interest in our event, and thank you for supporting Seashore Trolley Museum and Maine Public Television!