In 2017 there's more than ever:
to experience, learn, see; more reasons to return again and again!
Generally one's view of  Seashore Trolley Museum begins at the entrance of the driveway, and opens up at the visitor center.  But you perspective really widens when your view of the museum begins from the back of the main campus, and imagine that the railroad continues along way past what you see in this photo! This is the world's largest public transit museum.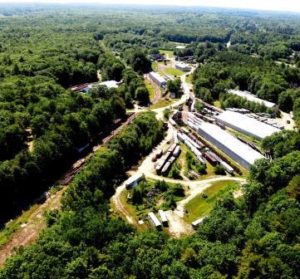 What "More to Experience" ?
Special events: ours always include amazing collection vehicles.  Sometimes they are the stars of the show, and other times they are the props that transform your sense of time and place.
Our annual gala in August always focuses on a segment of the collection that supports the evening's theme.  On August 18, 2017 it's "Downeast meets Dixie at Seashore Trolley Museum". #downeastmeetsdixie
Cars from Dallas, D.C. and Wheeling, West Virginia will share the stage with New England trolleys while the band plays both bluegrass and sea shanties.  The dinner buffet includes New England favorites like chowder and blueberry cake as well as southern BBQ favorites.  Signature cocktails, raffles, rides and loads of fun!  Click for more details.    Click to purchase tickets.
Some of our events are for "everyone", some have a family focus, and some are for grownups only.  Click here for full details
Hiking/biking trails: Take our trolley to the end of our railroad  where you can hike or bike north on what was a rail bed that continued to Biddeford.  Along the way, you'll encounter a back entrance to public trails owned by the Kennebunkport Conservation Trust.
Ever tried Moxie? It's got an almost cult-like following.  Celebrate all things Moxie on Moxie Day!
Share a new experience with your dog: Well-mannered dogs are welcome to ride trolleys, visit exhibit barns, "shop" in the museum store and generally enjoy the museum all the ways that you do.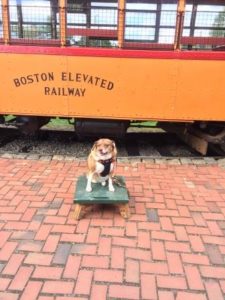 Get involved:  If you decide you'd like to visit more than once, become a member.  Often visitors like what they see so much that they decide to join the Seashore Trolley Museum family as volunteers.
What "More to Learn" ?
Connect with History from a new perspective: Seashore Trolley Museum is the operating entity of New England Electric Railway Historical Society.  We share stories of the past that focus on the role that public transportation played in shaping lives and events.  Did you know that Teddy Roosevelt rode on one of our cars?  We even hold an annual Teddy Roosevelt event.
Understand that the museum is a valuable resource for surrounding communities:  Seashore Trolley Museum attracts visitors from around the world.  As a one-of-a-kind venue, we enhance the cultural texture of the area, and make a significant economic impact.
What "More to See" ?
If you think you'll only see a few trolleys, "you've got another think coming!"  We've got more than 250 collection vehicles, and many of them are on display.  The craftsmanship and variety is mind-boggling.  On our annual Transit Day, buses, subway cars, trackless trolleys and some of most incredible cars operate, along with trolleys.
Photographers, film-makers and artists are inspired by the setting and what's here.
What "More Reasons to Return" ?
Seashore Trolley Museum lives, evolves, and changes with the times.  Vehicles move around, special events are enhanced and new events are developed.